The Special Tomato Soft-Touch Booster Car Seat combines the comfortable, contoured support you love from Special Tomato with the safety and security of an affordable booster seat for older children that need support beyond what can be offered by typically developing booster seats. The Booster Car Seat is recommended for children with mild to moderate physical involvement. The Booster Car Seat promotes an upright, seated posture while traveling in a vehicle. There is a 5-year Manufacturer Warranty for the Booster Car Seat.
"I THOUGHT THE CUSHIONS WERE HARD PLASTIC UNTIL I TOUCHED THEM! THEY'RE SO SOFT!"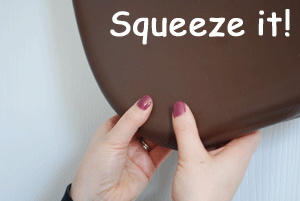 The Special Tomato Soft-Touch Booster Car Seat includes the LATCH strap to keep the Booster positioned on the vehicle seat. The Booster includes a Multi-Positioning Trunk & Pelvic Harness for positioning purposes only. The vehicle's shoulder/lap belt is used to secure your child and the Booster to the vehicle seat for safety.
The Soft-Touch Booster Car Seat is also FAA compliant and approved for use on airplanes.
The Soft-Touch Booster Car Seat can be taken out of your vehicle and used as a seating system when you are out and about. The Booster Car Seat has two sets of attachment straps to attach the Booster to most stable chairs in your home, a restaurant, or community centre.
You can also purchase a base to use with your booster car seat when using it out of the car.  There are 3 options- Floor Sitter Base, Stationary Base, and Mobile Base.
Floor Sitter Base- Also called the Floor Wedge Base, this base allows your child to be fully supported in the sitting position while on the floor. This level of seating is great for interaction between children with special needs and peers that are playing on the floor.
Stationary Base- This strong wooden base allows children to be close to the floor without caregivers having to transfer them all the way down to the floor. The Stationary Base is equipped with furniture glides to protect floors.
Mobile Base- This is the same strong wooden base as the stationary base, but has a frame equipped with four swivel castors and rear locking brakes. Castors provide maneuverability around the room or room to room, even in space restricted areas.
All base options allow for up to 25 degrees of seat tilt. This can provide a slightly reclined, gravity assisted resting position for children who fatigue while sitting fully upright.
Please Note: There is a 6-year Expiration Date for the Booster Car Seat for use during transportation! The Seat itself can be used beyond 10 years with the Wooden Mobile Base or attached to a standard chair for more than 10 years!
Is this Product Right for You?
Soft-Touch Booster Car Seat is made of a seamless, LATEX-FREE, anti-microbial material
Special Needs Booster Car Seat for older children that still need support in a vehicle
Use the included attachment straps to attach to a standard chair when not being used in a vehicle OR purchase your choice of indoor base
Recommended for children with mild to moderate physical involvement
Critical measurements: Weight Capacity, Seat Depth & Shoulder Height of the Harness. View the "Size Chart" under specifications for specific measurements for each size.